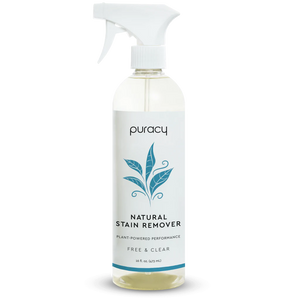 Puracy
Natural Stain Remover - Free & Clear / 16oz
Regular price
$9.99
$0.00
Unit price
per
For those who hate throwing out new clothes and turning sofa cushions over
The most powerful clothing stain removal product available, guaranteed

Powered by ALL SIX plant-based enzymes = 99%+ stains are gone


Developed by doctors, trusted by families everywhere

Proprietary blend of plant-based cleansers safely remove grass, berries, blood, sweat, oil, tomato sauce, cosmetics, pet accidents, dirt, and hundreds of other stains and odors

Eco-friendly solution pretreats over 500 stains per bottle

Color-safe formula works great on clothing, linens, carpets, floor mats, car seats, cloth diapers, and other washable fabrics

Naturally derived, hypoallergenic, vegan, gluten-free, and biodegradable

NO sulfates (e.g. SLS, SLES) phosphates, animal by-products, chlorine, bleach, dyes, synthetic fragrances, petrochemicals, caustics, or optical brighteners

Biodegradable formula is safe for the environment, gray water, and septic systems

Never tested on animals and

 

Certified Cruelty Free
Free & Clear

98.95% Natural 
Stains are just a bummer. There is no other word to describe them. That little bit of guacamole that slid off the chip before you could catch it. The coffee stain because you tried to walk and drink at the same time. The stuff on your kid's clothes and you have no idea what that stuff actually is...Stains are a bummer. But they do not have to be a problem… 

Color-safe and non-caustic, Puracy Stain Remover was specifically developed to remove all stains, nasty odors, and mysterious blemishes from all types of fabrics.

Crafted by a team of biochemists and cleaning specialists who strive to create safe and effective plant-powered products for everyone, the 6 plant-based enzymes contribute to a 98.95% natural formula.

Each bottle contains enough concentrated stain-fighting power to eradicate over 500 stains. In fact, this is the only stain remover you will ever need. No more throwing pillows over food stains, no more t-shirts becoming rags, and no more good clothes becoming play clothes.
Free & Clear
Purified water (Aqua, eau), C10-C16 Alcohol ethoxylate (Plant-based cleanser), Decyl glucoside (Vegetable-based cleanser), Vegetable glycerin (Plant-based skin softener), Propanediol (Plant-based preservative), Protease (Plant-based enzyme), Sodium borate (Natural mineral cleanser), Amylase (Plant-based enzyme), Sodium citrate (Plant-based water softener), Lipase (Plant-based enzyme), Pectinase (Plant-based enzyme), Mannanase (Plant-based enzyme), Cellulase (Plant-based enzyme), Benzisothiazolinone (Biodegradable preservative), Coconut fatty acid (Plant-based foam reducer), Calcium chloride (Natural mineral stabilizer)
Directions
NORMAL USE:

 

Spray the affected area and wait at least 15 minutes before laundering.
TOUGH STAINS: Spray then massage the affected area with a soft brush. Wait at least 8 hours (can be left on for days), then launder with the warmest water the fabric care instructions allow. Opt for the "Extra Rinse" cycle. Some stains may require two treatments.
FABRICS YOU CANNOT PUT IN THE WASHING MACHINE:

 

Use exactly as "Normal Use" states. To rinse, fill a bowl with warm water, saturate a clean cloth with the water. Gently wring, then press into the stain, moving back and forth with light pressure. This will pull the natural stain remover from the surface and replace it with fresh water, mimicking a rinsing effect. Rinse cloth and repeat the same steps until the stain remover is "rinsed" from the surface.
Always test for colorfastness on an inconspicuous area first.
Do not leave on silk or wool for more than one hour.
Avoid eye contact or breathing in the mist. If skin or eye irritation occurs, rinse with fresh water for 15 minutes. If swallowed, drink plenty of fresh water. Seek medical attention if problems persist.
Tips & Tricks
For the worst stains imaginable, spray the affected area thoroughly, agitate the area with a soft-bristled brush, and let it soak for 8 hours before laundering. The longer you wait, the more time these stain-fighting enzymes have to penetrate deep within the fibers.
Consider making stain removal part of your daily routine. When kids settle in to sleep, take a few seconds to spot-treat clothing stains. When clothes are popped into the washing machine later that week, the stains will be gone.
For wool & silk, don't let the stain remover sit for more than 1 hour. If the stain persists, however, consider an additional treatment.
---
Share this Product
---