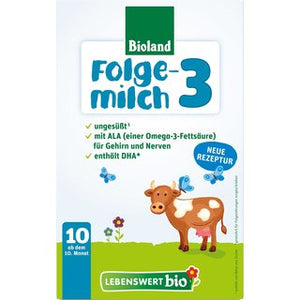 Love Organic Baby
Lebenswert Bio Stage 3 Organic Baby Grown-Up Formula (20 boxes) - With DHA
Regular price
$495.00
Sale price
$580.00
Unit price
per
From 10 months and on. 475 grams.
Suitable if replacing or in addition to breast milk. Suitable for feeding in a bottle. Easy to digest, gluten-free, no added sugar. 
Ingredients: Skimmed milk*1, whey product (partly demineralised whey powder)*, vegetable oils* (palm oil*3, rapeseed oil*, sunflower oil*), maltodextrin*, starch*, L-tyrosine, calcium chloride, magnesium chloride, calcium carbonate, calcium hydroxide, L-tryptophan, sodium chloride, iron lactate, vitamin C, zinc sulphate, copper sulphate, vitamin E, niacin, pantothenic acid, vitamin B1, vitamin A, vitamin B6, manganese sulphate, potassium iodate, folic acid, sodium selenate, vitamin K, vitamin D, biotin, vitamin B12.
* from organic farming, 1 100g powdered infant milk is made from 184ml Bioland skimmed milk 2 , contains DHA (legally required for follow-on formula), 3 from sustainable cultivation.
Preparation:
Quick and easy to prepare. Add boiled water which has been cooled to approx. 50°C (122°F) to the formula powder and shake. Make sure it has cooled to desired temperature before feeding baby.
Production:
Lebenswert bio Organic Follow-up Formula Stage 3 is made by Holle. The milk of Lebenswert organic milk nutrition comes exclusively from organic farmers, whose species-appropriate stock breeding follows the strict guidelines of Bioland farming. In this farming, man, animal and land are valued and respected. Organic Bioland farmers stand for species-appropriate stock breeding, plant protection and soil fertilization without chemical or synthetic agents and careful management of soil's fertility. Produce made under this requirements are sustainable and preserve nature.
The balance with nature is one of the reasons for the superior quality of the milk used in Lebenswert bio premium baby food. From making, via processing to ready product, the special organic quality is ensured by means of independent and government agency checks.
Nutritional facts of Lebenswert Infant Formula 3

| | | |
| --- | --- | --- |
| | Lebenswert Stage 3 | |
| | Per 100g of product | per 100ml prepared formula  |
| Energie (KJ/Kcal) | 2081/497 | 275/66 |
| Fat (g) | 24 | 3.2 |
| * Of which Saturated Fat | 6.7 | 0.88 |
| * Of which monounsaturates | 13.1 | 1.7 |
| * Of which polyunsaturates | 4.2 | 0.6 |
| Linoleic Acid (omega-6) (g) | 3700 | 488 |
| a-Linoleic Acid (omega-3) (g) | 320 | 42 |
| DHA (mg) | 104 | 13.7 |
| Carbohydrates (g) | 60 | 7.9 |
| * Of which suger | 38.6 | 5.1 |
| * Of which starch | 7.4 | 0.98 |
| * Of which lactose  | 38 | 5 |
| Protein (g) | 10.2 | 1.3 |
| Vitamin A (ug) | 353 | 46.6 |
| Vitamin D (ug) | 13 | 1.7 |
| Vitamin E (mg) | 8.5 | 1.1 |
| Vitamin K (ug) | 40 | 5.3 |
| Vitamin C (mg) | 70 | 9.2 |
| Thiamine (mg) | 0.67 | 0.088 |
| Riboflavin (mg) | 1.1 | 0.15 |
| Niacin (mg) | 3.7 | 0.49 |
| Vitamin B6 (mg) | 0.55 | 0.073 |
| Folic Acid (ug) | 100 | 13.2 |
| Folate (ug DFE) | 167 | 22 |
| Vitamin B12 (ug) | 1 | 0.13 |
| Biotin (ug) | 10 | 1.3 |
| Pantothenic Acid (mg) | 4.2 | 0.56 |
| Potassium (mg) | 511 | 67.5 |
| Chloride (mg) | 341 | 45 |
| Calcium (mg) | 389 | 51.3 |
| Phosphorus (mg) | 248 | 32.7 |
| Magnesium (mg) | 50 | 6.6 |
| Iron (mg) | 6.9 | 0.91 |
| Zinc (mg) | 3.3 | 0.44 |
| Copper (mg) | 0.36 | 0.047 |
| Manganese (mg) | 0.09 | 0.012 |
| Fluoride (mg) | 0.04 | 0.0053 |
| Selenium (ug) | 19 | 2.5 |
| Iodine (ug) | 108 | 14.3 |
| Sodium (mg) | 147 | 19 |
| 1 Scoop is (g) | 4.6 g | |
---
Share this Product
---