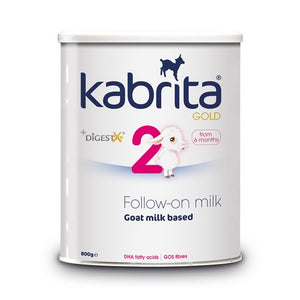 Love Organic Baby
Kabrita Follow-on Goat Milk Stage 2 (800g) (4 cans)
Regular price
$275.00
Sale price
$290.00
Unit price
per
Not available for overnight shipping
From 6-12 months
Each tin contains 800g and a measuring spoon
Goat milk based formula
Contains acids (DHA & AA) and prebiotic fibers (GOS)
Made in Netherlands
Kabrita 2 follow-on milk is suitable for babies from 6-12 months as part of a balanced diet. Made from high quality goat milk, this formula is enriched with all the required vitamins and minerals that a baby needs to grow and prosper. It contains carefully selected ingredients, such as unsaturated fatty acids (DHA & AA), which supports the normal eye-sight and brain development. It also contains prebiotic fibers (GOS) that help main the gut flora by stimulating the growth of beneficial bacteria (Bifido-and lactobacilli). Kabrita goat milk formula is naturally easy to digest due to a unique fat and protein composition. It is naturally rich in important nutrients such as calcium, vitamin A, and iron. 
Ingredients: Lactose (milk), Vegetable oils (High sn-2 palmitic acid oil, Soybean oil, Palm kernel oil, Sunflower oil), Skimmed goat milk powder, Goat whey protein concentrate powder (milk), Glucose syrup solids, Galacto-oligosaccharides (GOS) (milk), Minerals (Tri calcium phosphate, Dicalcium phosphate, Tri sodium citrate, Tri calcium citrate, Calcium carbonate, Potassium hydroxide, Ferrous sulphate, Zinc sulphate, Copper sulphate, Manganese sulphate, Potassium iodide, Sodium selenate), Docosahexaenoic acid-rich oil (DHA) (fish), Arachidonic acid-rich oil (AA), Choline bitartrate, Vitamins (L-ascorbic acid, Sodium L-ascorbate, DL-alpha tocopheryl acetate, Calcium D-pantothenate, Nicotinamide, Thiamin hydrochloride, Retinyl acetate, Riboflavin, Pyridoxine hydrochloride, Folic acid, Phytomenadione, D-Biotin, Cholecalciferol, Cyanocobalamin), Choline chloride, Taurine, L-carnitine, Inositol.
Kabrita was established over 100 years ago in 1897. Their first factory processed high quality milk from their farms into specialized dairy products for the Dutch market. Kabrita is produced by a group of Dutch dairy companies that have multiple production facilities around the Netherlands. Each factory has it's own history in the production of baby milk and over 75 years of experience in developing specialized baby milk formulas. The gentle goat milk formulas are made from Dutch goat milk, known for its high quality and mild taste. Being inspired by mother's milk, Kabrita contains special DigestX OPO-fatblend (also known as bèta-palmitate). Breast milk is known to contain a high amount of bèta-palmitate, which contributes to calcium absorption. Kabrita formulas are specifically developed to meet the nutritional requirements of your little one. Goat milk is the main ingredient and all other ingredients are added to render a complete, modern-day infant formula. The core of Kabrita's company has always been to produce high quality goat milk based nutritional products. In 2000 Kabrita development of a complete range of goat milk based infant, follow-on, and toddler milks. Over the years, Kabrita has continued to grow and is currently one of the leading brands in goat milk based nutritional products. Every Kabrita farmer is required to become a member of NGZO (the Dutch goat milk dairy association) and comply with the corresponding guidelines and legislation.
Average composition
Per 100ml
Unit
energy
281
kJ
 energy
67
kcal
fat
3.3
g
of which saturated fatty acids
1.2
g
of which mono-unsaturated fatty acids
1.2
g
of which poly-unsaturated fatty acids
0.63
g
linoleic acid
0.52
g
α-Linolenic acid
53
mg
arachidonic acid (AA)
15
mg
docosahexanoic acid (DHA)
15
mg
carbohydrates
7.9
g
of which sugars
7.3
g
lactose
7.2
g
galacto-oligosaccharides (GOS)
0.41
g
protein
1.4
g
of which whey protein
0.82
g
of which casein protein
0.56
g
vitamins
 
 
vitamin A
59
µg – RE
vitamin D3
1.6
µg
vitamin E
1.0
mg α-TE
vitamin K1
5.5
µg
vitamin C
10.3
mg
vitamin B1
62
µg
vitamin B2
157
µg
vitamin B6
54
µg
vitamin B12
0.20
µg
niacin
599
µg
folic acid
17.6
µg DFE
pantothenic acid
464
µg
biotin
1.8
µg
minerals
 
 
calcium
58
mg
phosphorus
35
mg
magnesium
5.7
mg
iron
1.0
mg
zinc
0.51
mg
manganese
8.3
µg
copper
50
µg
iodine
12.8
µg
sodium
21
mg
potassium
74
mg
chloride
55
mg
selenium
2.6
µg
fluoride
≤6.75
µg
others
choline
21
mg
inositol
5.4
mg
taurine
5.4
mg
l-carnitine
1.6
mg
---
Share this Product
---