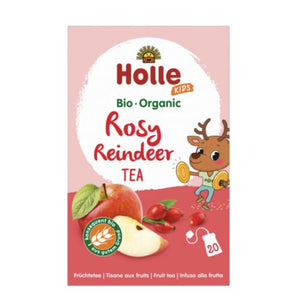 Love Organic Baby
Holle Organic kids Rosy Reindeer Tea -20 bags
Regular price
$9.99
$0.00
Unit price
per
When to start: 3 years and after
   

This tasty fruit tea mix with apple and rosehip is the perfect thirst quencher for young children from 3 years.
They are perfect for hot or cold beverages, as well as for a variation in their normal day-to-day drinks.
Rosy Reindeer - The fun red tea mix made from selected organically farmed apples and rosehip skins with an intensively fruity taste. 100% bio - unsweetened - no additional flavorings, colorings or preservatives. 

Preparation:  Place a tea bag in a cup (200ml) and fill with boiling water. Allow to infuse for 5-10 minutes.
Flamingo iced tea: Pour 100ml of boiling water over a tea bag. Allow to infuse for 5-10 minutes, then top up with 500ml cold water, orange slices and ice cubes.
       

Ingredients:  apple* 30%, rosehip shells* 30%, hibiscus petals* 15%, blackberry leaves* 9%, honeybush leaves* 9%, liquorice root* 7%.

Countries of origin of the main ingredients: Germany

* from certified organic farming
---
Share this Product
---