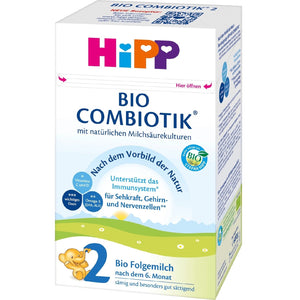 Love Organic Baby
HiPP Stage 2 German - Organic Combiotik Formula (600g) (8 boxes)
Regular price
$290.00
Sale price
$304.00
Unit price
per
Age: Suitable from 6 months onwards
Package Size: 600g
Country of origin: Germany
About this product:
An ideal complement to the weaning diet from 6 months onwards when moving from breast or infant milk feeding. The gentle organic follow on milk is specially formulated using only the finest organic milk and contains iron for cognitive development, vitamin A,C and D and PRÆBIOTIK® oligosaccharides (GOS), as well as other important vitamins and minerals.
Gluten Free
No added Peanut
No added Egg
No added Wheat
No added nut
No added Celery / celeriac
Ingredients:
Organic Skimmed Milk, Organic Vegetable Oils [Organic Palm Oil, Organic Rapeseed Oil, Organic Sunflower Oil], Organic Whey, Organic Lactose, Organic Starch, Galacto-Oligosaccharides (Obtained From Lactose), Emulsifiers [Soy Lecithin, Lecithin], Calcium Carbonate, Vitamin C, Potassium Citrate, Iron Lactate, L-Tryptophan, Potassium Chloride, Vitamin E, Natural Lactic Acid Culture [Hereditum® Lactobacillus Fermentum Cect 5716], Vitamin A, Niacin, Zinc Oxide, Vitamin D, Pantothenic Acid, Copper Sulfate, Vitamin K, Vitamin B1, Vitamin B6, Manganese Sulfate, Potassium Iodate, Folic Acid, Vitamin B2, Sodium Sulfate, Biotin, Vitamin B12.
Certified organic by EU standards
| | |
| --- | --- |
| | HiPP German Stage 2 |
| | per 100ml prepared formula  |
| Energie (KJ/Kcal) | 285/68 |
| Fat (g) | 3.7 |
| * Of which Saturated Fat | 1.6 |
| * Of which monounsaturates | 1.6 |
| * Of which polyunsaturates | 0.5 |
| a-Linoleic Acid (omega-3) (g) | 0.06 |
| DHA | 13.6 |
| Linoleic Acid (omega-6) (g) | 0.42 |
| Arachidonic Acid  | 0 |
| Carbohydrates (g) | 7.2 |
| * Of which suger | 6 |
| * From Lactose  | 5.8 |
| * Of which starch | 1.2 |
| Inositol (mg) | 0 |
| Fibre (g) | 0.4 |
| Galactooligosaccharides (g) | 0.4 |
| Protein (g) | 1.3 |
| Of which L-Carnitine (mg) | 0 |
| Sodium (mg) | 20 |
| Potassium (mg) | 84 |
| Chloride (mg) | 52 |
| Calcium (mg) | 70 |
| Phosphorus (mg) | 40 |
| Magnesium (mg) | 6.3 |
| Iron (mg) | 1 |
| Zinc (mg) | 0.5 |
| Copper (mg) | 0.054 |
| Manganese (mg) | 0.007 |
| Fluoride (mg) | <0.01 |
| Selenium (ug) | 3.9 |
| Iodine (ug) | 15 |
| Vitamin A (ug) | 56 |
| Vitamin D (ug) | 1.6 |
| Vitamin E (mg) | 0.8 |
| Vitamin K (ug) | 3.1 |
| Vitamin C (mg) | 10 |
| Vitamin B1 / Thiamin (mg) | 0.37 |
| Vitamin B2 /Riboflavin (mg) | 0.14 |
| Niacin (mg) | 0.53 |
| Vitamin B6 (mg) | 0.042 |
| Folic Acid (ug) | 10 |
| Vitamin B12 (ug) | 0.1 |
| Biotin (ug) | 1.6 |
| Pantothenic Acid (mg) | 0.35 |
| Choline (mg) | 0 |
| 1 Scoop is (g) | 4.5 g |
---
Share this Product
---