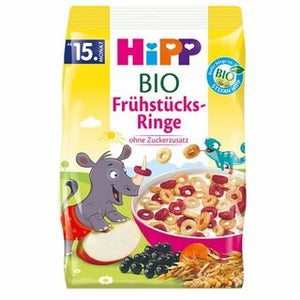 Love Organic Baby
HiPP Organic Breakfast Rings 135g
Regular price
$12.49
$0.00
Unit price
per
The cheerful, colorful breakfast fun.
The World Health Organization (WHO) recommends a sugar content of less than 15% for cereals. HiPP Organic Breakfast Rings contain only sugar from natural ingredients and have a total sugar content well below this recommendation. This makes them ideally suited for daily breakfast.
Application and use: Prepare each meal fresh. Please do not heat HiPP Breakfast Rings in the microwave (risk of scalding!) Please check chunkiness and, if necessary, allow to swell for a few minutes for a softer consistency. Please supervise your child while eating.
Storage and use conditions: Re-seal the opened bag after product removal, store in a dry, hygienic place at room temperature. Use up the contents within 3-4 weeks. The foil pouch guarantees optimal freshness and aroma protection. Seal opened package airtight (with the reseal sticker). Store in a dry place at room temperature.
Preparation: HiPP Organic Breakfast Rings are a wholesome breakfast meal for children from 15 months of age. Please check whether your child can already chew the Organic Breakfast Rings. If not, please let them swell until the desired texture (a few minutes).
Put 20 g (approx. 7 tablespoons) of Breakfast Rings into a bowl.
Add 125 ml of milk. Stir with a spoon - ready.
Important product information: Packaged under a protective atmosphere.
Important notes: If used as a snack item, important for your child: danger of swallowing! Do not give Organic Breakfast Rings while lying down. Please supervise your child while nibbling. Ensure a balanced diet, a healthy lifestyle and provide regular dental care for your toddler.
Product description and details: from 15 months The first meal of the day is important for the proper nutrition of your child. Your child needs energy for a good start to the day. HiPP Breakfast Rings are age-appropriate to the nutritional needs of toddlers and contain only valuable, strictly tested organic ingredients. HiPP Breakfast Rings offer variety and fun on the breakfast table: their colorful rings make them ideal for an eventful day.
Age-appropriate to meet the nutritional needs of young children
valuable, strictly tested organic ingredients
with 88% organic cereals in three different flavors
ideal for first attempts at self-spooning
also to nibble on in between meals
rich in vitamin B1 - important for the nervous system (required by law in children's cereals)
without added flavors
without added sugar - ingredients naturally contain sugar
Nutritional values:
Average Nutritional Values
per 1 serving, Ready to eat
per 100 g, Ready to eat
 
 20 g organic breakfast rings + 125 ml whole milk
 
GDA
GDA
Energy
663,0 kj / 158,0 kcal
 
1640,0 kj / 388,0 kcal
 
Fat
5,1 g
 
3,2 g
 
thereof:
 
 
 
 
- saturated fatty acids
2,8 g
 
0,4 g
 
Carbohydrates
21,2 g
 
76,5 g
 
thereof:
 
 
 
 
- Sugar
7,2 g
 
6,7 g
 
Dietary fiber
1,4 g
 
7,0 g
 
Protein
6,1 g
 
9,7 g
 
Salt
0,15 g
 
0,05 g
 
Sodium
0,06 g
 
0,02 g
 
Vitamin B1 (Thiamine)
0,37 mg
74 %
1,6 mg
320,0 %
Ingredients: Cereals* 88% (WHEAT FLOUR*, BARLEAD FULL GRAIN FLOUR*, OAT FULL GRAIN FLOUR*, WHEAT FULL GRAIN FLOUR*), juice concentrates* 12% (apple*, carrot*, black currant*), vitamin B1.
*from organic production
May contain traces of MILK, SOY, SHELL FRUIT and SESAME.
---
Share this Product
---