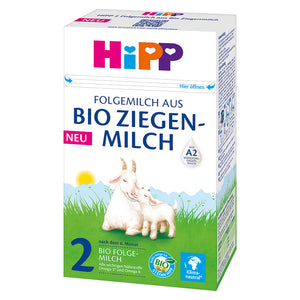 Love Organic Baby
HiPP Goat Milk Formula Stage 2 Organic Follow-On Milk (400g)
Regular price
$38.99
$0.00
Unit price
per
HiPP Goat stage 2
Suitable from 6 months+

HiPP Goat contains two main types of beta-casein protein, which are A1 and A2 beta-casein. HiPP's organic goat milk is naturally A2 and A1 beta-casein free. Unlike cow's milk which is typically A1, A2 goat's milk is better suited to sensitive tummies because it is digested more quickly, easily, and completely by babies.

HiPP's formula mimics breast milk to bring your baby formula with the natural benefits of human milk. Like breastmilk, HiPP's formula contains prebiotics which help to promote healthy gut flora and digestion. Prebiotics have also been found to improve bowel movements and reduce colic in infants.

It also contains a blend of organic vegetable oils as a source of palmitic acid which is naturally present in breastmilk and an optimal ratio of fatty acids including DHA (Omega-3) and ARA (Omega-6) to support brain development and visual acuity. Goat's milk is naturally high in many nutrients but HiPP makes up for what it's missing by adding all the vitamins and minerals needed for healthy growth and development.

This formula may be a good option if your little one has digestive issues, has sensitivities to cow's milk, or you're looking for a gentle breastmilk-like option.


EU Organic
Made from gentle A2 goat milk
Contains ARA (Omega-6) & DHA (Omega-3)
Breastmilk-like formulation
Enriched with prebiotics (GOS)
Valuable fiber GOS (galactooligosaccharides) obtained from BIO lactose
Lactose is the main carbohydrate in breast milk
Omega-3 fatty acids (DHA) – contribute to the development of vision in infants (according to law)
The positive development occurs with a daily intake of 100 mg DHA
Valuable nutrients and building blocks - contains everything your baby needs for healthy growth in addition to solid food

Skimmed goat milk*, lactose*, vegetable oils* (palm oil, rapeseed oil*, sunflower oil*), skimmed goat milk powder*, galactooligosaccharides* from lactose*, calcium carbonate, fish oil1, potassium citrate, vitamin C, sodium citrate , iron sulfate, L-tyrosine, L-tryptophan, L- cystine, magnesium carbonate, zinc sulfate, copper sulfate, niacin, vitamin E, pantothenic acid, vitamin A, vitamin B1, vitamin B6, manganese sulfate, folic acid, sodium selenite , vitamin K, potassium iodide, vitamin D, biotin, vitamin B12. *from organic production 1contains DHA (required by law for follow-on formula). Organic palm oil from sustainable cultivation, certified by independent control bodies

---
Share this Product
---